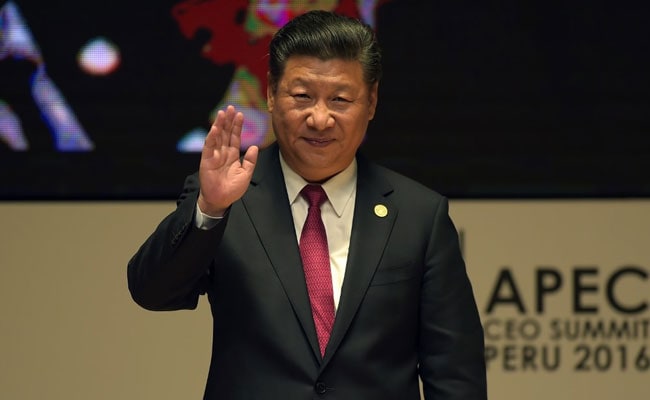 WEF said it would be the most comprehensive meeting of ministerial delegations in the world, with over 70 countries including all G20 countries participating.
Geneva: Chinese President Xi Jinping will open the Annual Meeting of World Economic Forum (WEF) in Swiss ski resort town of Davos next week, which will be attended by a record 3,000 global leaders from business, government and civil society, including over 100 from India.
Announcing the programme for the 47th Annual Meeting, from January 16-20, 2017, WEF announced at a press conference here that the summit will have a theme of 'Responsive and Responsible Leadership'.
The Meeting will call for a new model of leadership championing collaboration, growth, reformed capitalism and preparedness for the fourth industrial revolution.
More than half of 400 sessions at the five-day event will address strategies for fostering greater social inclusion and human development, while one-third of the 3,000 participants come from outside Europe and North America.
Another one-third will represent stakeholder groups outside business and government, Geneva-based WEF said.
"Under the theme Responsive and Responsible Leadership, the Meeting will focus on four critical leadership challenges for 2017 - re-imagining global cooperation, revitalising the global economy, reforming capitalism and preparing for the Fourth Industrial Revolution," it added.
"The world around us is changing at unprecedented speed. At this tipping point, our traditional concepts of society, meaningful employment and the nation state are challenged, and many understandably feel insecure or even threatened.
"A new model of responsive and responsible leadership is needed to allow us to address the challenges the world faces, from security to the Fourth Industrial Revolution, with long-term, action-oriented thinking and solidarity on a national and global level," WEF Founder and Executive Chairman Klaus Schwab said.
WEF said it would be the most comprehensive meeting of ministerial delegations in the world, with over 70 countries including all G20 countries participating.
This year's Meeting will include the participation of the new Secretary-General of the United Nations, Antonio Guterres, along with heads of key international organisations.
"The Annual Meeting 2017 will be opened by President Xi Jinping of China, who will be accompanied by the largest delegation of Chinese officials since the country first participated in the Annual Meeting in 1979," it said.
Besides Jinping, the event would also see participation by Bangladesh Prime Minister Sheikh Hasina and Sri Lankan Prime Minister Ranil Wickremesinghe from the region.
From India, Union Ministers Nitin Gadkari and Nirmala Sitharaman as also Andhra Pradesh Chief Minister Chandra Babu Naidu are expected to be present.
Besides, NITI Aayog Vice President Arvind Panagariya and DIPP Secretary Ramesh Abhishek as also over 100 business leaders including Rahul Bajaj, Azim Premji, Mukesh Ambani, N Chandrasekaran, Sunil Mittal, Arundhati Bhattacharya, Baba Kalyani and Vijay Shekhar Sharma are expected to be there.
Film maker Karan Johar, activist Swami Agnivesh and Congress leader Kamal Nath are also among the Indians registered for the annual talkfest of the rich and powerful from across the world.
Overall, there would be more than 1,200 CEOs from various countries, making it biggest such gathering.
WEF said its commitment to bringing leaders from all stakeholder groups together stems from a strongly held belief that the only way to address critical global challenges is to ensure the participation of all groups in society and all members of the international community.
"The Forum believes that this is as relevant today as it was in 1971 when the first Annual Meeting was held. Despite the huge change the world has seen in recent years, the Forum has consistently argued for an inclusive and sustainable approach to managing our world's transformation, even as it has become increasingly interconnected and more complex."
The Co-Chairs for the Annual Meeting are Bank of America CEO Brian Moynihan, Documentary Filmmaker from Pakistan Sharmeen Obaid Chinoy, Save the Children International CEO Helle Thorning-Schmidt, Royal Philips CEO Frans van Houten and Hewlett Packard Enterprise CEO Meg Whitman.
Chinese President Xi Jinping, who will be on a state visit to Switzerland from January 15-18 besides attending Davos event, is expected to be at the centrestage of the event with China's growing importance in the global economy. He will become the first Chinese head of state to attend Davos meet.
A few global leaders including German Chancellor Angela Merkel, who has been a regular at Davos in the past, and Canadian Prime Minister Justin Trudeau will skip the event.
The event is also expected to witness a lot of debate on the US Presidency of Donald Trump, who would assume office on January 20 -- incidentally the last day of the WEF Meet.
Other global leaders to be present are Afghanistan President Mohammad Ashraf Ghani, IMF Chief Christine Lagarde and WTO Director General Roberto Azevedo, as also General Motors chief Mary Barra, Microsoft CEO Satya Nadella and Alibaba's Jack Ma.
(This story has not been edited by NDTV staff and is auto-generated from a syndicated feed.) - NDTV