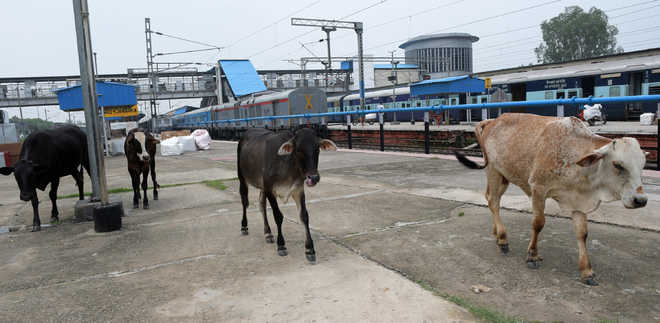 Stray cattle, unhygienic washrooms, long queues inconvenience visitors; security not on track, CCTV cameras outdated
Cattle roam freely at the platform.
Though Chandigarh is considered as the most well planned city in the country, its railway station is plagued by a plethora of problems. As if long queues of passengers at the ticket windows were not enough, stray cattle menace has become a headache for railway staff.
Stray cattle could be seen grazing near the railway track and roaming around the railway platform, rummaging through leftover food items and litter thrown by passengers.
The railway authorities said, "Sometimes stray cattle come from a gaushala and enters the railway station. There is always a risk of cattle being run over by trains."
"The railway station which slipped from the sixth slot to the 48th in the Swachh Rail Survey, a part of the Swachh Survekshan-2017, has become a favourite holiday destination for railway officials. Except the railway rest house, nothing else has witnessed development in all these years," said a railway employee requesting anonymity.
One can see empty plastic bottles, glasses and leftovers strewn around the entrance of the railway station. Passengers do not mind sleeping, eating on the floor in the absence of proper seating arrangement.
The rainwater accumulated at the railway station has become a breeding ground for mosquitoes. Rainwater was accumulated on the rooftop of the railway station at Panchkula side and outside the Railway Police Forces (RPF) head office.
Hygiene a far cry
Due to lack of proper ventilation, toilets on the railway station stink badly and there is no proper hygiene, making it impossible for passengers to use these. "Dare using these toilets during the rush hour. We cover our face while entering the toilet as it stinks badly. We had raised the issue of unhygienic washrooms with the authorities several times, but to no avail," said Rajesh Kumar, a daily passenger.
Security lapse
While the problem of long queue of passengers at the ticket windows appears to be unending, there are serious security lapses at the station.
The railway station sans door frame mettle detectors (DFMD) and railway protection force (RPF) jawans also remain missing from the entrance during the arrival of trains. Except 12 obsolete CCTV cameras, there is no other mechanism in place to detect the suspicious entry of anti-social elements.
As per information, Rs 4.75 crore was spent on the construction of the new ticket counter. Still, there has been no respite from long queues. Out of the six ticket counters, only two remain operational.
A railway employee said what was the need to spend crores of rupees when passengers had to stand in long queues for hours?
Source - Tribune India